THE LEADING PROVIDERS OF Church Lifts
We offer platform lifts, self supporting lifts and stair platform lifts for internal and external use – and we'd love to help with your next project!
Sincere thanks for the professionalism, dedication and hard work for the recent work undertaken
Platform Lifts for Churches
Churches are a place where people congregate to build a community and practice their religion. As a communal area that's available to the public; accessibility should always be priority. Under the Equality Act, reasonable adjustments need to be made for people with different abilities; whether this is someone who's mobile via a wheelchair (who may require a wheelchair platform lift), or anyone with physical problems that'll find difficulty in moving around the premises.
As well as fitting lifts for safety reasons; it's also important that your community and member of the public feel safe and still feel the need to stay with your particular church.
All previous clients have been overly satisfied with the finished results – this is because we don't just install your lift and leave; we offer service and maintenance options to keep your installation fit for use. We've fitted a range of different platform lifts at churches and religious buildings around the UK. Below, you can read about some of the lifts we've fitted: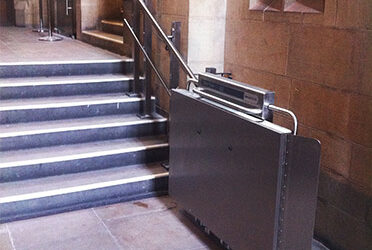 Lift For The Crypt At Sheffield Cathedral
Sheffield Cathedral is the oldest building in the city. There has been a church on the site for over 1000 years. They recently wanted to add accessibility for wheelchair users to the crypt. Find out why the Inva StairRiser was the ideal solution.