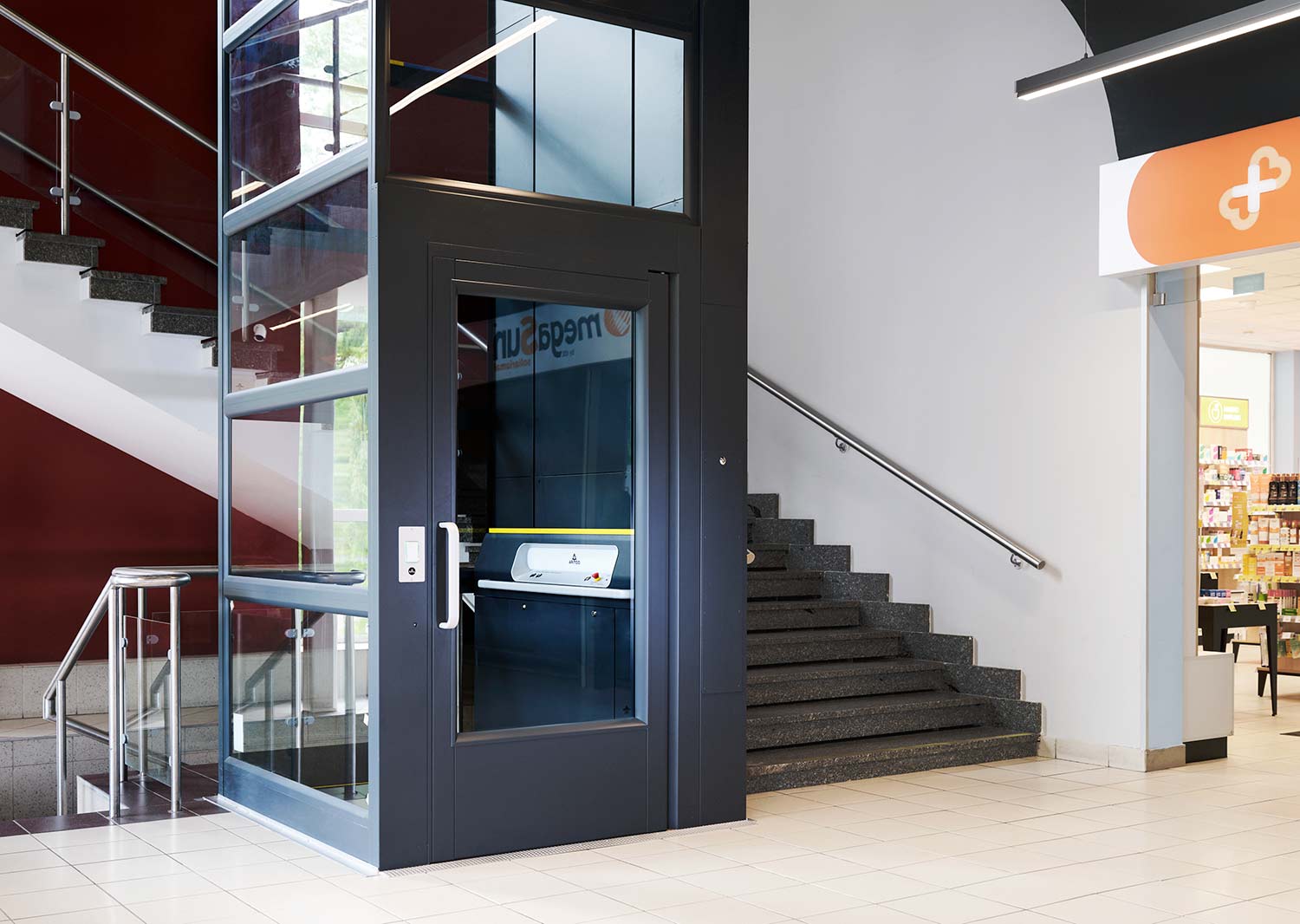 THE LEADING PROVIDER OF COMMERCIAL & DOMESTIC Lifts
We offer platform lifts, self supporting lifts and stair platform lifts for internal and external use – and we'd love to help with your next project!
Request a Quote Speak to our team
On both occasions we have worked with Invalifts, the work has been carried out professionally and efficiently. From the outset to completion a fantastic job.
UK Wide Delivery & Installation

Serving England, Wales and Scotland

Lifts of All Sizes

Perfect for any business

5 & 10 Year Warranty

Available on our commercial platform lift

Over 20 Years Experience

Excellent expertise and knowledge
Platform Lifts
We are the UK's leading provider of high-quality platform lifts and a broad range of accessibility products to suit projects in various sectors. Our team ensures that every installation goes smoothly, using their 20 years of experience in installation and servicing. We can point you in the right direction to achieve the solution you're looking for.
Here at Invalifts, we strive to exceed your expectations. We check in after the initial installation to ensure that your platform lifts are functioning optimally. Whether internal or external, large or small, we are confident that we can offer a solution to meet your needs. Browse our range of platform lifts and our gallery to view our recent installations. If you have any queries, please don't hesitate to contact us! We're always happy to answer any questions. For platform lifts of unrivalled quality and help from a team of dedicated individuals, choose Invalifts.
Wheelchair Platform Lifts
Since our inception in 2000, we have never wavered from our goal of providing the highest standard of support and expert understanding to all of our clients. Transitioning from a privately owned business to today being a subsidiary of one of the largest wheelchair platform lift manufacturers in the world, we have the knowledge and resources to deliver expert solutions. As we have grown, so has our product range.
Our focus to only offer the highest standard of quality and reliability has remained unchanged however. Our range now covers everything from step lifts to wheelchair platform lifts. So if you are looking for an effective solution to overcome any accessibility issues, we have a product and the expertise to help you.
Contact our team via our online contact form or, alternatively, you can call us today. We are here to listen and to support you with your next project.
Testimonials
Robert McNulty of ITV

"Both myself and the team here at ITV Border in Carlisle are very pleased with our new lift. The whole process from the planning through to the installation has been conducted in an efficient and professional manner. The operation of the lift is really simple and the safety aspects are re-assuring. The finish is superb and this important addition to our office brings us up to date and in line with other leading and forward thinking businesses."

Danny Donald, Managing Director of Aiken Group

"Just a brief note to commend your two engineers Charlie and Martin who have installed my lift. They were extremely professional, efficient and took the time to explain everything as they were going along. Too often people are quick to complain about service but on this occasion it is very nice to provide positive feedback to you on your operatives."

Ian Hazel - Managing Director of Ian Hazel Funerals Ltd

"I must complement Invalifts on providing a first class product that met our exacting needs"

Lynton and Lynmouth Town Council

"Would like to take this opportunity to thank Invalifts for the excellent service they have provided during the completion of the lift project"

Bristol Hippodrome

"I cannot praise the engineer enough. He had an extremely positive attitude"

Manchester Metropolitan University

"Sincere thanks for the professionalism, dedication and hard work for the recent work undertaken"

Andrea of 'John Moore and Sons'

"On both occasions we have worked with Invalifts, the work has been carried out professionally and efficiently. From the outset to completion a fantastic job."

P. Crawford

"We have been impressed by the efficiency and co-operation of your installation team"

Clifton Methodist Church

"I am pleased to report that the lift is working well and the disabled church members appreciate its installation"

Concept Construction

"Thank you for your excellent service and we will of course work with you in the future"

Richard Gooder from Cambridge

"Installers were courteous, kind, efficient and wonderfully tidy"

Mr and Mrs Croad from Penarth

"Thank you, and the staff, for the extremely good product, and the first class service we have received from you all"
Gallery
Explore our gallery of lifts, click on an image below to find out more.
FAQs
WHAT IS A PLATFORM LIFT?

A platform lift is a moving platform that does not travel at any speed above 0.15m/s. Platform lifts are regulated under the Machinery Directive and not the Lift Directive. They usually have no cabin walls and operate from a constant pressure button on the platform console. Designed primarily for disability access but can be used in a number of wide ranging applications. 

WHAT TYPES OF PLATFORM LIFTS ARE THERE?

Platform lifts come in various shapes and sizes. Depending on the intended use, there are different options for each. We have a wide range of lift solutions so get in touch with our team today or while you are here explore our products by clicking products in the top navigation.

HOW LONG DOES IT TAKE TO INSTALL A LIFT?

The time it takes to install a large platform lift depends on which option has been chosen. Our fully qualified and experienced engineers can usually install a lift as quick as 1 day, but for more complex structures it can take a few more days. The planning and manufacturing process however can take a few weeks prior to the actual installation of the lift.

WHAT HAPPENS TO MY LIFT IF THERE IS A POWERCUT?

All of our lifts have a battery backup installed in case of a power cut, they all are installed with a safety feature that lowers the lift safely back to the ground in the event of a power cut or an emergency.

WHA IS THE DIFFERENT BETWEEN A PLATFORM LIFT AND AN ELEVATOR?

Elevators are cabs entirely enclosed in a shaft surrounding the cab and machinery. Alternatively, platform lifts don't require shafts or enclosures. Platform lifts only include walls to prevent those using them from rolling or stepping off the platform.