The Leading Provider of Step Lifts
We offer platform lifts, self supporting lifts and stair platform lifts for internal and external use – and we'd love to help with your next project!
Installers were courteous, kind, efficient and wonderfully tidy
UK Wide Delivery & Installation

Serving England, Wales and Scotland

Lifts of All Sizes

Perfect for any business

5 & 10 Year Warranty

Available on our commercial platform lift

Over 20 Years Experience

Excellent expertise and knowledge
Step Lifts
Step lifts are viewed as a simple solution: offering a small difference in levels both internally and externally. They can pose a challenge as great as any larger travel vertical platform lift however. This is why a team with commercial experience and expertise, such as ourselves, are always required for the installation of step lifts. Capacity, usable platform size and required floor space are always important criteria when choosing the best step lift for your project. Here at Invalifts, we can support you through the decision making process with our experienced internal office and external sales team.
To discuss our step lifts range at greater length, contact our team via the online contact form. Alternatively, you can get in touch via our customer service number. We encourage you to outline your requirements and we will explore your options together. 
SPEAK TO OUR TEAM  REQUEST A QUOTE
Standard Features

Capacity 500Kg or 440kkg above 2000mm
Platform 900mm / 1100mm wide x 1400mm long
Travel from 750mm to a maximum 3000mm
Integrated platform ramp
Manual glazed platform gate
Manual glazed upper landing gate
Metallic black finish
Checker plate platform flooring
Internal or external applications

Optional Features

Power operated platform and upper landing gates
Alternative RAL colour finishes
Key isolator controls
Landing control on remote stanchion posts
Fold down seat

Installation & Removals

We have over 20 years of platform lift installation experience. What that has brought us is the knowledge, experience and expertise to complete platform lift installations efficiently and to the industry's highest standard. 

As part of the installation of a new platform lift, we can often offer a removal package to safely remove an old or non-functioning platform lift ready for the installation of one of our new platform lifts.

Downloads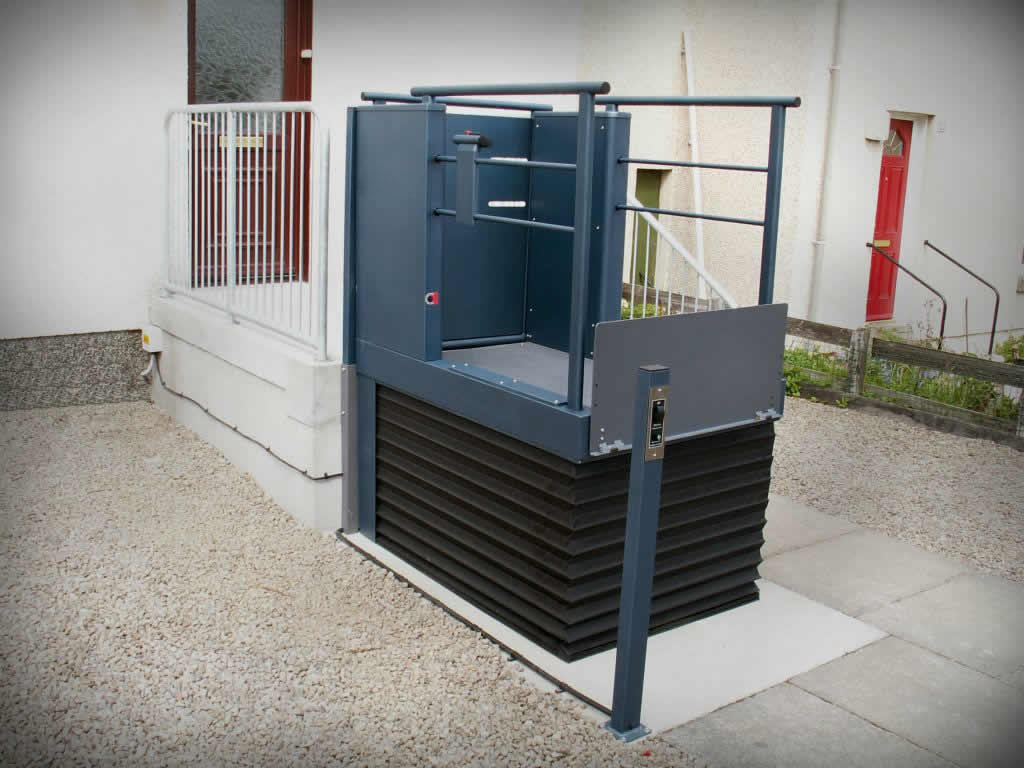 Wheelchair Step Lifts
We are the UK's leading wheelchair step lift installer, with years of collective commercial experience. Our team's expertise, as well as our diverse product range, has been requested by clients from a broad range of industries. Our wheelchair step lift is particularly popular with those who require high quality access solutions in a commercial capacity. With a 300kg weight capacity, bespoke non-slip flooring and an impressive 1400mm x 900mm platform size, as well as a range of optional features, we can see why.
In line with our reputation of going above and beyond for the client, we also offer a comprehensive maintenance and repair service post installation. As a company, we are committed to excellence in the field of accessibility. Whether this means installing a new lift or repairing a pre-existing one, we are here to help. 
Testimonials
Robert McNulty of ITV

"Both myself and the team here at ITV Border in Carlisle are very pleased with our new lift. The whole process from the planning through to the installation has been conducted in an efficient and professional manner. The operation of the lift is really simple and the safety aspects are re-assuring. The finish is superb and this important addition to our office brings us up to date and in line with other leading and forward thinking businesses."

Danny Donald, Managing Director of Aiken Group

"Just a brief note to commend your two engineers Charlie and Martin who have installed my lift. They were extremely professional, efficient and took the time to explain everything as they were going along. Too often people are quick to complain about service but on this occasion it is very nice to provide positive feedback to you on your operatives."

Ian Hazel - Managing Director of Ian Hazel Funerals Ltd

"I must complement Invalifts on providing a first class product that met our exacting needs"

Lynton and Lynmouth Town Council

"Would like to take this opportunity to thank Invalifts for the excellent service they have provided during the completion of the lift project"

Bristol Hippodrome

"I cannot praise the engineer enough. He had an extremely positive attitude"

Manchester Metropolitan University

"Sincere thanks for the professionalism, dedication and hard work for the recent work undertaken"

Andrea of 'John Moore and Sons'

"On both occasions we have worked with Invalifts, the work has been carried out professionally and efficiently. From the outset to completion a fantastic job."

P. Crawford

"We have been impressed by the efficiency and co-operation of your installation team"

Clifton Methodist Church

"I am pleased to report that the lift is working well and the disabled church members appreciate its installation"

Concept Construction

"Thank you for your excellent service and we will of course work with you in the future"

Richard Gooder from Cambridge

"Installers were courteous, kind, efficient and wonderfully tidy"

Mr and Mrs Croad from Penarth

"Thank you, and the staff, for the extremely good product, and the first class service we have received from you all"