The Leading Provider of Large Platform Lifts
We offer platform lifts, self supporting lifts and stair platform lifts for internal and external use – and we'd love to help with your next project!
On both occasions we have worked with Invalifts, the work has been carried out professionally and efficiently. From the outset to completion a fantastic job.
UK Wide Delivery & Installation

Serving England, Wales and Scotland

Lifts of All Sizes

Perfect for any business

5 & 10 Year Warranty

Available on our commercial platform lift

Over 20 Years Experience

Excellent expertise and knowledge
Large Platform Lifts
The large platform lifts from Invalifts have been designed as an extension of our traditional DDA compliant platform lift. With a large 1400mm wide X 2500mm long platform base, as well as a maximum capacity of 1000kg, our large platform lifts are effectively suited to large scale commercial and industrial applications. For example, we have supported and delivered access solutions for clients from a variety of sectors including the medical industry.
The larger platform size can accommodate hospital beds as well as powered and sports wheelchairs, making this product ideal for care homes and hospitals. The increased capacity of 1000kg also means that our large platform lifts are useful in the transportation of light goods. 
SPEAK TO OUR TEAM  REQUEST A QUOTE
Standard Features

1000Kg capacity
High back platform
1300mm wide landing doors (based on a 1400mm wide platform)
415v, 3 phase, 20amp power requirements
Minimum headroom at upper landing of 2250mm
Manuals wing landing doors

Optional Features

Automatic door openers
Fire rated doors (1000mm or 1200mm door widths only)
Key control
Glass shaft panels
Energy saving Automatic LED shaft lighting
Emergency battery lowering
Level indicators
Telephone or Autodialler
Shaft panels finished to alternative RAL colour of customer choice

Dimensions

Available in 3 standard platform sizes:

1400mm wide x 2500mm long (footprint of 1860mm x 2610mm)
1400mm wide x 2000mm long (footprint of 1860mm x 2110mm)
1100mm wide x 2200mm long (footprint of 1560mm x 2310mm)
(Class III Health Care sizes)
1000mm or 1300mm wide entrances with a height of 2000mm.

Installation & Removals

We have over 20 years of platform lift installation experience. What that has brought us is the knowledge, experience and expertise to complete platform lift installations efficiently and to the industry's highest standard. 

As part of the installation of a new platform lift, we can often offer a removal package to safely remove an old or non-functioning platform lift ready for the installation of one of our new platform lifts.

Downloads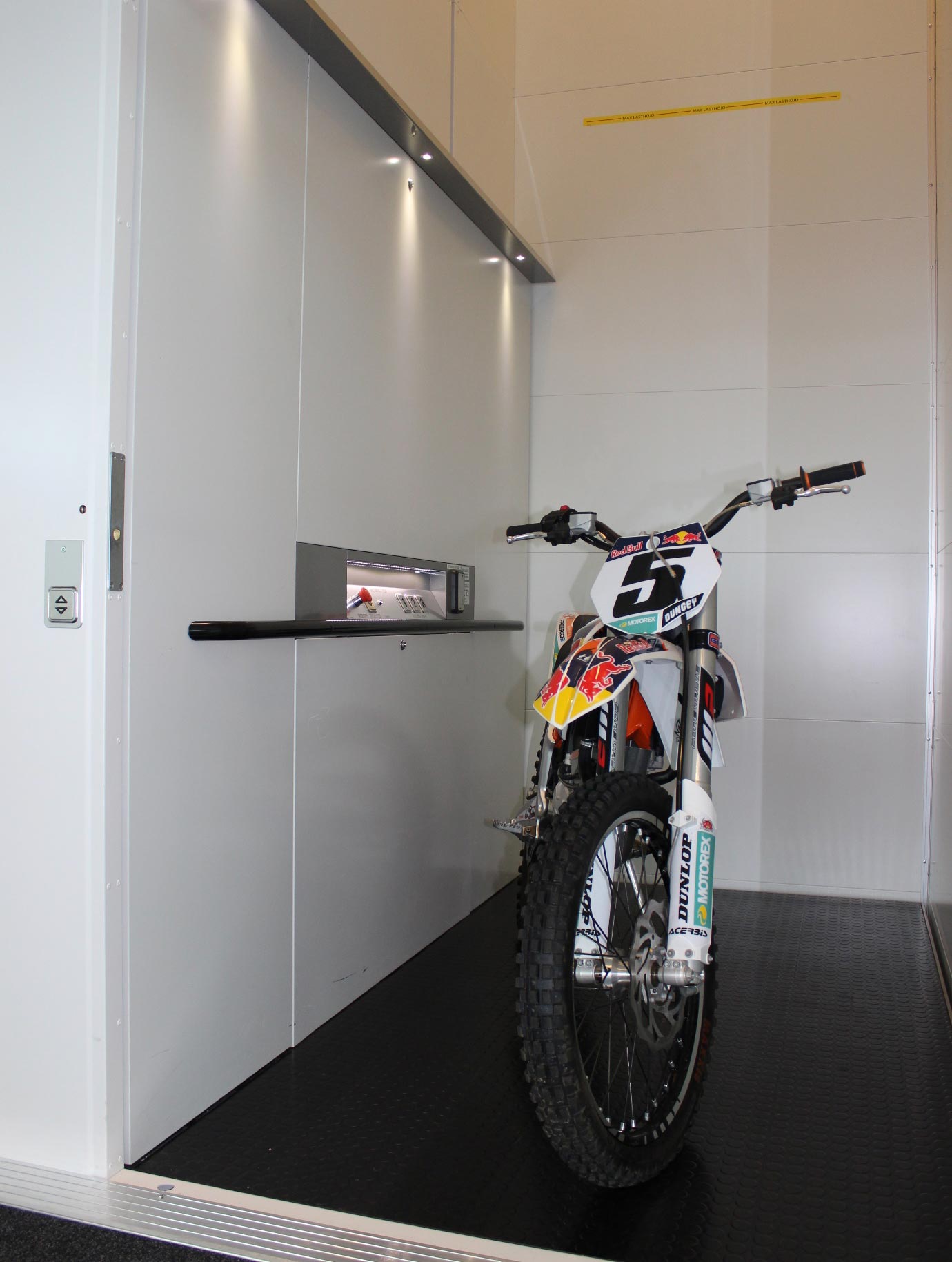 Heavy Duty Platform Lifts
With the ability to travel 13 metres, serving up to 6 floors, and boasting a 1000 kg weight capacity, our heavy duty platform lifts are ideally suited to a range of applications in commercial and residential properties. As with all of our installations, our team can deliver an out of the box solution or supply a range of optional features. These include the likes of level indicators and fire rated doors.
We appreciate that overcoming accessibility issues is often unique to your premises. This is why we offer a whole range of features, and can build any lift to your exact specifications. If you require heavy duty platform lifts that are specifically designed and built for your property, please contact us today. We are happy to provide more information on any of our products and services. 
Gallery
Explore our gallery of lifts, click on an image below to find out more.
FAQs
What types of platform lifts are there?

Platform lifts come in various sizes and are individually designed to perform different tasks. Some lifts are capable of bearing more weight, for example, whilst others are specifically engineered for the safe transportation of people.

Each commercial application is unique. As such, a different solution, that meets a buyer's unique specifications, is often required.

We have a wealth of experience across the commercial and industrial sector, having provided businesses and individuals with solutions that range in size and complexity. From solutions that solely transport passengers to goods and service lifts, we have a broad range of build, installation and maintenance experience.

We are uniquely qualified to support you, regardless of the platform lift you require. To start the process or obtain a quote, contact us today.

How long does it take to install a large platform lift?

This is a question we are asked often. The answer, unfortunately, varies on a client to client basis. Our engineers are both highly qualified and experienced, so installation work is an efficient process.

Typically, our installation team can install a lift as quick as 1 day. We remind clients, however, that more complex structures can take a few days or maybe more. There is also the planning and manufacturing process to consider, which requires a few weeks prior to the actual installation of the lift.

If you are concerned about lead time or have a stringent deadline that you must adhere to, we would love to hear from you. We can work with you to ensure the process is streamlined and the result is delivered when and how you need it to be.

Can I have a platform lift outside?

Yes, an outdoor installation is absolutely possible. Outdoor platform lifts are specifically designed and engineered to withstand weather conditions and the elements. They often make use of weather resistant materials and unique safety features that allow for uninterrupted performance outdoors.

Our external products are tested rigorously and designed to offer fantastic levels of durability and resistance in outdoor environments, whether that be against rain, snow or prolonged UV exposure.

Accessibility in outdoor areas is just as important as interior spaces. Whether at an entrance to a retail facility or in an industrial space, an external platform lift can offer support whilst meeting regulatory standards.

Can I install a large platform lift on my own?

Any installation work, including the installation of large platform lifts, needs to be handled and overseen by a qualified professional. Not only is this mandatory from a safety perspective, but it also ensures that any installation work is completed efficiently and to a sufficient standard.

If work is carried out by an inexperienced team, the safety of that team, as well as any one who uses the lift afterwards, is effectively compromised. If you consider that a high percentage of platform lifts are used to transport people, it is imperative that the installation team is highly qualified, experienced and competent.

If you have ample experience and are qualified to carry out installation work, you may install the lift yourself. If not, it is best to enlist the help of an expert. Our experienced team is at hand to assist you.

Does a large platform lift have a battery backup in case of a power cut?

Yes, all of our lifts are installed with a safety feature that lowers the lift back to the ground safely should there happen to be a power cut or an emergency.
Testimonials
Robert McNulty of ITV

"Both myself and the team here at ITV Border in Carlisle are very pleased with our new lift. The whole process from the planning through to the installation has been conducted in an efficient and professional manner. The operation of the lift is really simple and the safety aspects are re-assuring. The finish is superb and this important addition to our office brings us up to date and in line with other leading and forward thinking businesses."

Danny Donald, Managing Director of Aiken Group

"Just a brief note to commend your two engineers Charlie and Martin who have installed my lift. They were extremely professional, efficient and took the time to explain everything as they were going along. Too often people are quick to complain about service but on this occasion it is very nice to provide positive feedback to you on your operatives."

Ian Hazel - Managing Director of Ian Hazel Funerals Ltd

"I must complement Invalifts on providing a first class product that met our exacting needs"

Lynton and Lynmouth Town Council

"Would like to take this opportunity to thank Invalifts for the excellent service they have provided during the completion of the lift project"

Bristol Hippodrome

"I cannot praise the engineer enough. He had an extremely positive attitude"

Manchester Metropolitan University

"Sincere thanks for the professionalism, dedication and hard work for the recent work undertaken"

Andrea of 'John Moore and Sons'

"On both occasions we have worked with Invalifts, the work has been carried out professionally and efficiently. From the outset to completion a fantastic job."

P. Crawford

"We have been impressed by the efficiency and co-operation of your installation team"

Clifton Methodist Church

"I am pleased to report that the lift is working well and the disabled church members appreciate its installation"

Concept Construction

"Thank you for your excellent service and we will of course work with you in the future"

Richard Gooder from Cambridge

"Installers were courteous, kind, efficient and wonderfully tidy"

Mr and Mrs Croad from Penarth

"Thank you, and the staff, for the extremely good product, and the first class service we have received from you all"