The Leading Provider of Large Platform Lifts
We offer platform lifts, self supporting lifts and stair platform lifts for internal and external use – and we'd love to help with your next project!
On both occasions we have worked with Invalifts, the work has been carried out professionally and efficiently. From the outset to completion a fantastic job.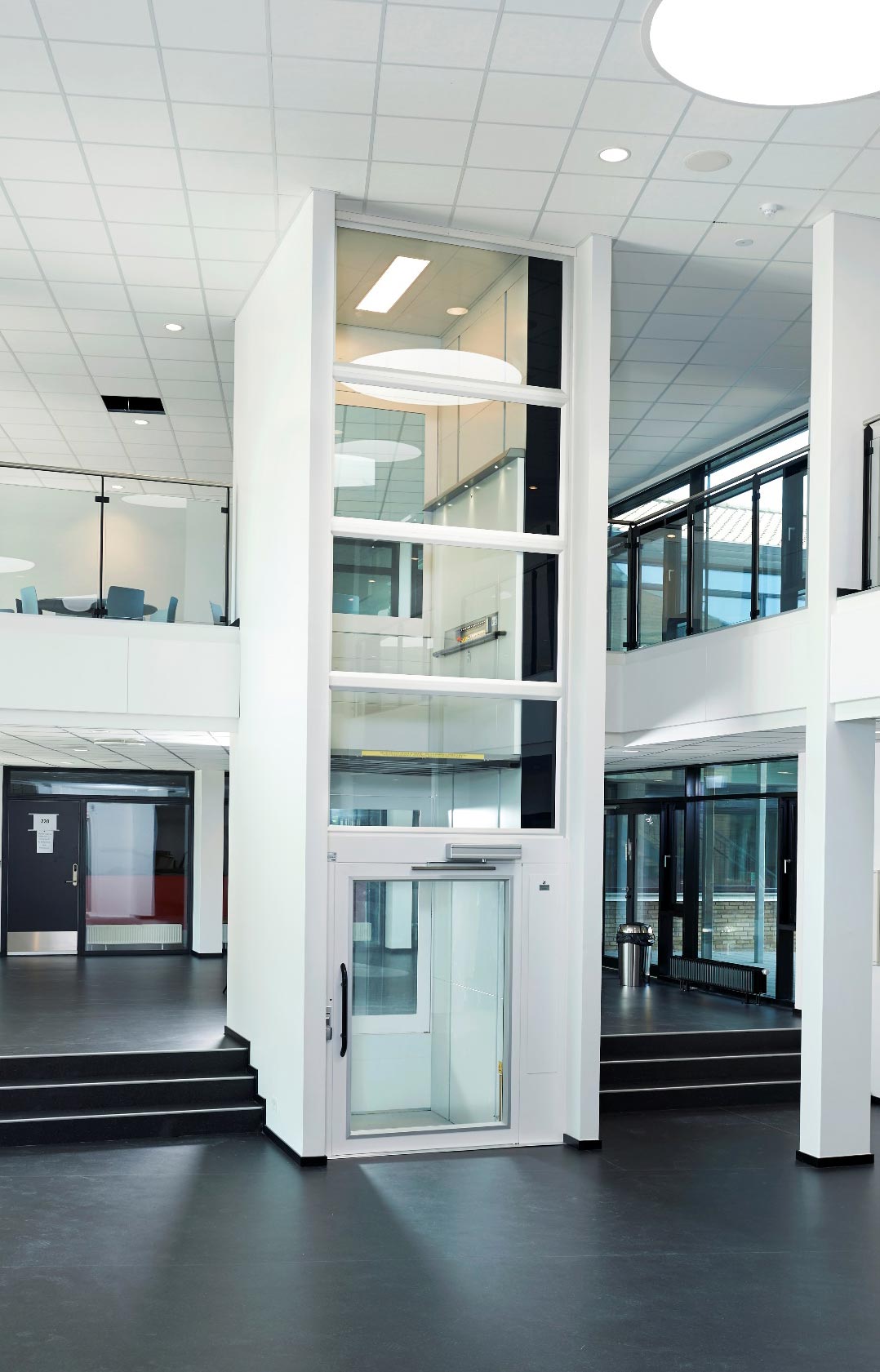 Large Capacity Platform Lift
Our large capacity platform lift is design with a platform size of up to 1400mm wide X 2500mm long and an uprated load capacity of 1000Kg, making this large capacity platform lift suitable to take hospital beds, powered wheelchairs and a range of light good application. Landing doors can be fully glazed, steel with an infill panel or 1 hour fire rated depending on the location and landing entrance on be on any of the 3 non machine drive sides, making this a very flexible option for moving light goods, beds or light cargo.
Standard Features

1000Kg capacity
High back platform
1300mm wide landing doors (based on a 1400mm wide platform)
415v, 3 phase, 20amp power requirements
Minimum headroom at upper landing of 2250mm
Manuals wing landing doors

Optional Features

Automatic door openers
Fire rated doors (1000mm or 1200mm door widths only)
Key control
Glass shaft panels
Energy saving Automatic LED shaft lighting
Emergency battery lowering
Level indicators
Telephone or Autodialler
Shaft panels finished to alternative RAL colour of customer choice

Dimensions

Available in 3 standard platform sizes:

1400mm wide x 2500mm long (footprint of 1860mm x 2610mm)
1400mm wide x 2000mm long (footprint of 1860mm x 2110mm)
1100mm wide x 2200mm long (footprint of 1560mm x 2310mm)
(Class III Health Care sizes)
1000mm or 1300mm wide entrances with a height of 2000mm.

Downloads
Free Delivery

Across the whole of the UK

Lifts of All Sizes

Perfect for any business

Fast Turnaround

1 - 3 Days from order

10 Year Guarantee

On all of our products

Over 20 Years Experience

Excellent expertise and knowledge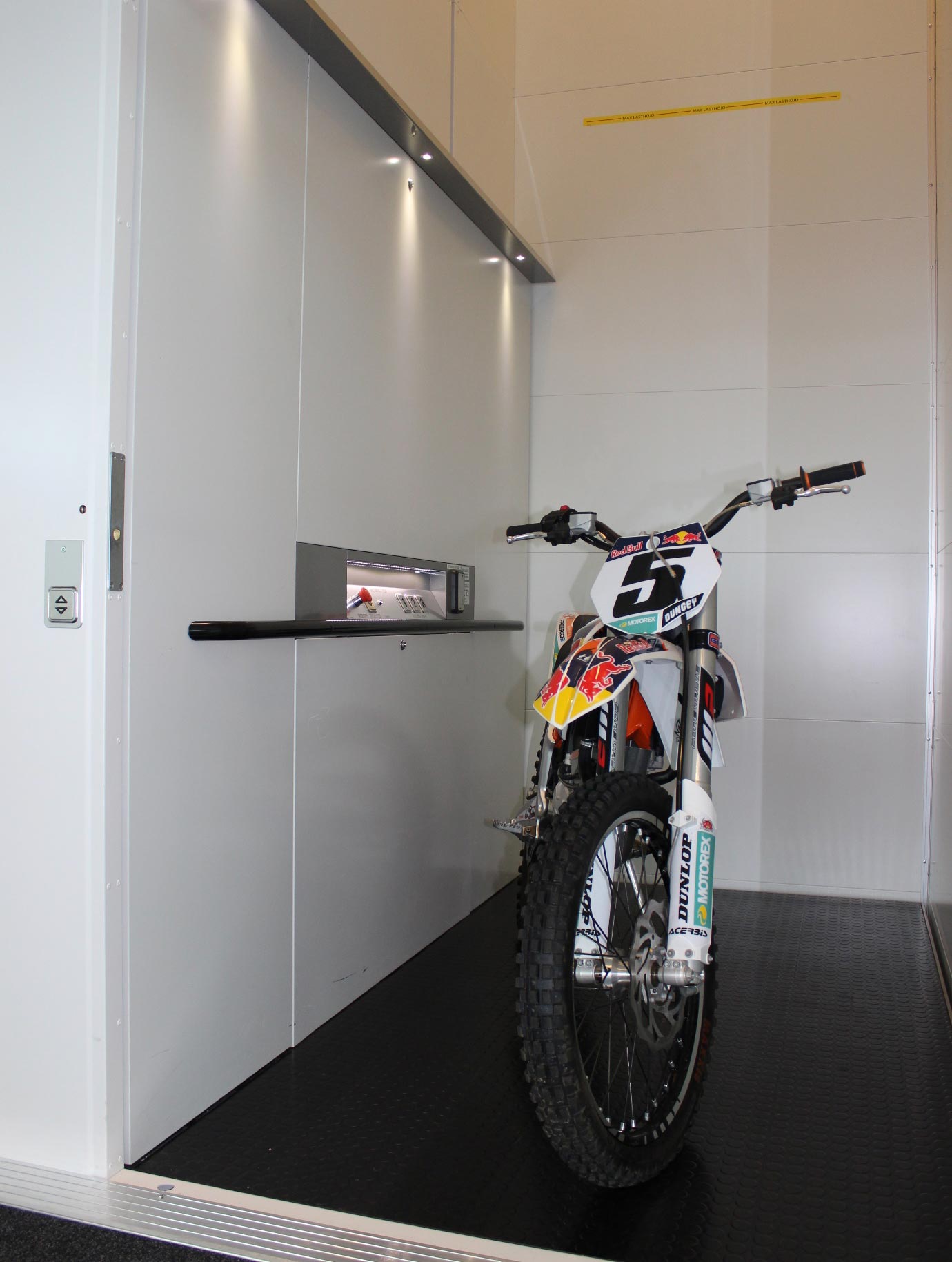 Large Capacity Platform Lifts
Introducing the Inva SD1000, the first platform lift of it's kind, offering increased capacity, better accessibility and a robust and reliable design.The INVA SD1000 is designed with the flexibility to fulfil individual requirements and fit in to both new and existing buildings serving up to 6 different levels and a maximum travel of 13m.
We offer a range of platform sizes, for options within healthcare, retail facilities, schools and other venues, both new and existing, that may need to accommodate larger or heavier loads. The increased platform size is complimented by the option of having landing doors that measure up to 1300mm wide, allowing for increased access to the platform for loads such as large goods, beds and larger powered wheelchairs.
The SD1000 large capacity lift complies with Class III Health Care regulatory sizes, making it the ideal solution for transporting beds and their attendants in care homes and similar care facilities. To assist with entering and exiting the lift, there is the option of a hold open facility, which makes transporting larger, more challenging loads a lot easier.
All of this, added to the benefits of only 110mm recess in the lower floor and no requirement for a structural wall shaft, but will require 1 structural wall, really makes the SD1000 the most flexible and cost effective vertical platform lift on the market.
Gallery
Explore our gallery of lifts, click on an image below to find out more.
Testimonials
Robert McNulty of ITV

"Both myself and the team here at ITV Border in Carlisle are very pleased with our new lift. The whole process from the planning through to the installation has been conducted in an efficient and professional manner. The operation of the lift is really simple and the safety aspects are re-assuring. The finish is superb and this important addition to our office brings us up to date and in line with other leading and forward thinking businesses."

Danny Donald, Managing Director of Aiken Group

"Just a brief note to commend your two engineers Charlie and Martin who have installed my lift. They were extremely professional, efficient and took the time to explain everything as they were going along. Too often people are quick to complain about service but on this occasion it is very nice to provide positive feedback to you on your operatives."

Ian Hazel - Managing Director of Ian Hazel Funerals Ltd

"I must complement Invalifts on providing a first class product that met our exacting needs"

Lynton and Lynmouth Town Council

"Would like to take this opportunity to thank Invalifts for the excellent service they have provided during the completion of the lift project"

Bristol Hippodrome

"I cannot praise the engineer enough. He had an extremely positive attitude"

Manchester Metropolitan University

"Sincere thanks for the professionalism, dedication and hard work for the recent work undertaken"

Andrea of 'John Moore and Sons'

"On both occasions we have worked with Invalifts, the work has been carried out professionally and efficiently. From the outset to completion a fantastic job."

P. Crawford

"We have been impressed by the efficiency and co-operation of your installation team"

Clifton Methodist Church

"I am pleased to report that the lift is working well and the disabled church members appreciate its installation"

Concept Construction

"Thank you for your excellent service and we will of course work with you in the future"

Richard Gooder from Cambridge

"Installers were courteous, kind, efficient and wonderfully tidy"

Mr and Mrs Croad from Penarth

"Thank you, and the staff, for the extremely good product, and the first class service we have received from you all"