About Us
We offer platform lifts, self supporting lifts and stair platform lifts for internal and external use – and we'd love to help with your next project!
I must complement Invalifts on providing a first class product that met our exacting needs
Free Delivery

Across the whole of the UK

Lifts of All Sizes

Perfect for any business

Fast Turnaround

1 - 3 Days from order

10 Year Guarantee

On all of our products

Over 20 Years Experience

Excellent expertise and knowledge
About Us and Our Lifts
Invalifts was formed in 2000 to meet the needs of many different user groups. The Disability Discrimination Act (later revised by the Equality Act) had come into force, which created a requirement for building owners to provide suitable disability access in public buildings.
The main product that dealt with this obligation was the platform lift. Platform lifts were designed with the less able in mind, with controls at wheelchair level and a slow speed not exceeding 0.15m/s. As the platform lifts were travelling at a slow speed and did not have a fully enclosed cabin they were regulated by the Machinery Directive and not the Lift Directive. Invalifts researched manufacturers of platform lifts and it became apparent that the market had extremes in quality and value for money. It was decided that Invalifts wanted to provide premier products that gave the end user the reliability that was needed on this type of access product.
Over the years the company developed a portfolio of platform lifts that cover a range of scenarios such as:
MC2000 Platform Lift – Internal platform lift in its own self supported shaft with a chain drive system.
Inva Flexi – open type platform for internal/external use with a maximum travel of 3M
Inva Low – open type platform for internal/external use with a maximum travel of 1M
Inva Stair Riser – Inclined platform lift for internal/external use for straight or curved staircases
Inva Euro – External platform lift
SD1000 – large capacity platform lift for beds and pallets
The MC2000 was such a success that Invalifts decided to also supply the same manufacturers small footprint passenger lift (M6000). It was at this time in 2006 that the company became accredited for quality standard, ISO 9001 and Lift Regulations. The M6000 passenger lift is unique as it is provided with its own self supporting shaft that can be produced as small as 750mm X 1000mm. The ability to be produced with extremely small footprints made it an excellent solution for existing buildings.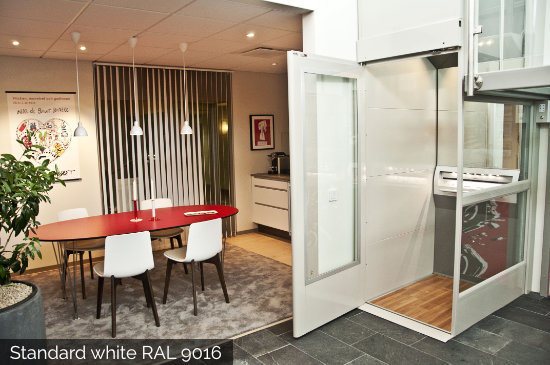 The Company continually strives to maintain its high standards in both products and service levels. The portfolio is constantly assessed to ensure we meet the end user demands. Over the years other products have been added such as :
Invalifts have not forgotten that the process of selling a lift is not the end of the relationship with the customer. After sales service and repair is an important part of our business. We look after a large service base throughout the UK.
The Company has been recognised as one of the market leaders and has supplied lifts into sites such as:
HMS Alliance – tourist attraction
Swedish Embassy
ITV Olympic Games broadcast centre
The Tall Ship- tourist attraction
A private residence featured in MY Flat Pack Home television show
Other sites include government buildings, hospitals, private homes, religious buildings, offices, retail and listed buildings to name but a few.
Please take a look at our accreditations page and testimonials page. Our case studies will also give an indication of how we work with the client to overcome issues and provide the best possible solution available.
Testimonials
Robert McNulty of ITV

"Both myself and the team here at ITV Border in Carlisle are very pleased with our new lift. The whole process from the planning through to the installation has been conducted in an efficient and professional manner. The operation of the lift is really simple and the safety aspects are re-assuring. The finish is superb and this important addition to our office brings us up to date and in line with other leading and forward thinking businesses."

Danny Donald, Managing Director of Aiken Group

"Just a brief note to commend your two engineers Charlie and Martin who have installed my lift. They were extremely professional, efficient and took the time to explain everything as they were going along. Too often people are quick to complain about service but on this occasion it is very nice to provide positive feedback to you on your operatives."

Ian Hazel - Managing Director of Ian Hazel Funerals Ltd

"I must complement Invalifts on providing a first class product that met our exacting needs"

Lynton and Lynmouth Town Council

"Would like to take this opportunity to thank Invalifts for the excellent service they have provided during the completion of the lift project"

Bristol Hippodrome

"I cannot praise the engineer enough. He had an extremely positive attitude"

Manchester Metropolitan University

"Sincere thanks for the professionalism, dedication and hard work for the recent work undertaken"

Andrea of 'John Moore and Sons'

"On both occasions we have worked with Invalifts, the work has been carried out professionally and efficiently. From the outset to completion a fantastic job."

P. Crawford

"We have been impressed by the efficiency and co-operation of your installation team"

Clifton Methodist Church

"I am pleased to report that the lift is working well and the disabled church members appreciate its installation"

Concept Construction

"Thank you for your excellent service and we will of course work with you in the future"

Richard Gooder from Cambridge

"Installers were courteous, kind, efficient and wonderfully tidy"

Mr and Mrs Croad from Penarth

"Thank you, and the staff, for the extremely good product, and the first class service we have received from you all"