THE LEADING PROVIDER OF Commercial Goods Lifts
We offer platform lifts, self supporting lifts and stair platform lifts for internal and external use – and we'd love to help with your next project!
We have been impressed by the efficiency and co-operation of your installation team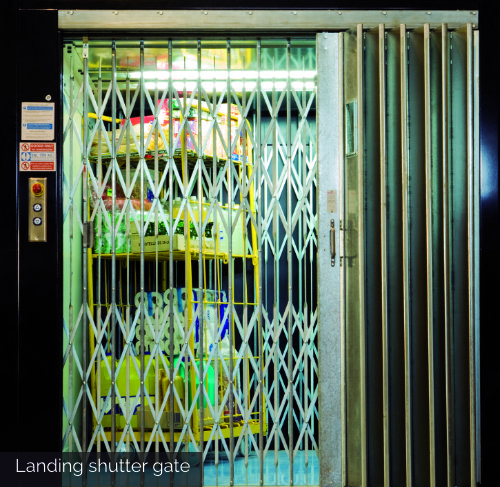 Goods Lifts
The Inva Goods lift has a load capacity of up to 2000Kg and comes with the option of either manual single or double hinged swing landing doors and a manual picket gate to the car.
The Inva Goods lift is designed for use in buildings with a high turnover and movement of goods between floors such as shopping centres, warehouses and industrial units, with a load capacity of 1000Kg, 1500Kg or 2000Kg and a full range of lift car configurations available for each model. Every Goods lift is supplied and installed with its own freestanding modular structure, fully capable of bearing the weight of the whole installation. Inside the modular structure is an enclosed car equipped with a car operation panel.
Standard Features

Rates load 1000Kg, 1500Kg, 2000Kg
Contact speed of 0.15m/s
Lift car built in steel plates finished in RAL 7032 Beige
Fluorescent lighting in the car
Single or open through configuration
Manual single or double hinged landing doors finished din epoxy painted steel RAL 9005 Black
Maximum height of travel 9000mm
Maximum number of entrances 4
Standard car height of 2000mm
Car width from 1000mm
Car depth from 1000mm

Optional Features

Attendant control for car
Manual folding shutter gates 2 hour fire resistance in accordance with BS EN1634-1
Car floor finishes in aluminium checker plate or steel checker plate
Car buffer rails in wood, Stainless steel or PVC
Car LED lighting
Voice synthesizer
3" LCD vertical display

Media
UK Wide Delivery & Installation

Serving England, Wales and Scotland

Lifts of All Sizes

Perfect for any business

5 & 10 Year Warranty

Available on our commercial platform lift

Over 20 Years Experience

Excellent expertise and knowledge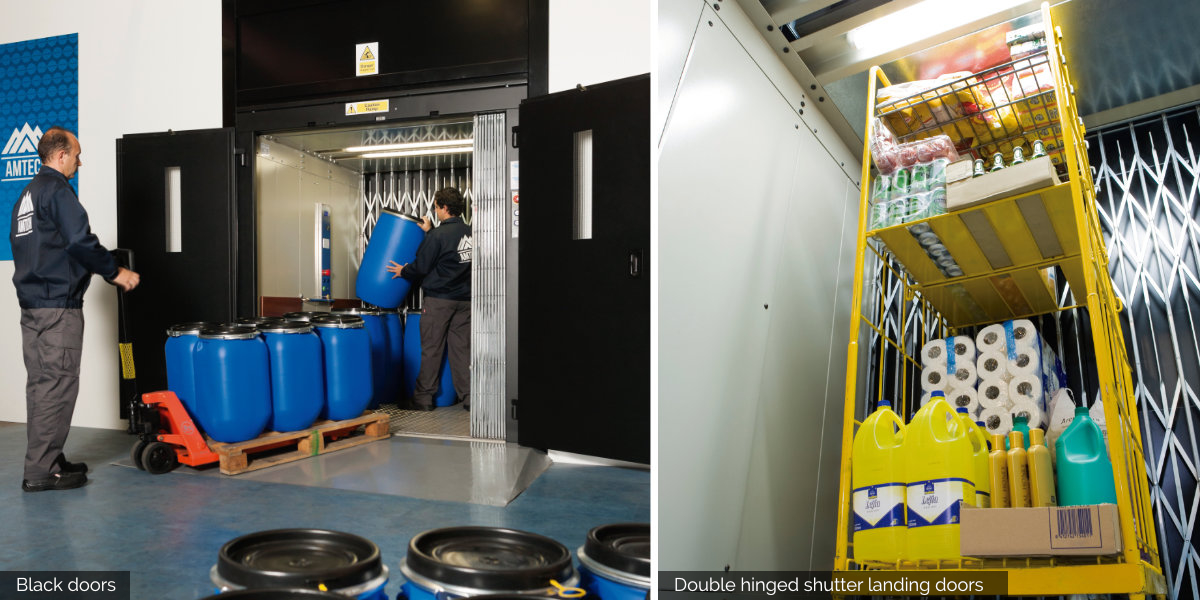 Overview of the Goods Lift
Landing doors can be manual single or double hinged swing door with a vision panel, finished in epoxy painted steel RAL 9005 Black. There is also the option for a 2 hour fire resistant landing door. The car is enclosed with a manual picket gate. Cabin sizes start from 1000mm wide and can be increased in 100mm increments up to a maximum of 2000mm wide. The cabin depth also starts at 1000mm with 100mm increments up to 2000mm deep. The standard cabin height is 2000mm but can also be increase up to 2200mm.
The geared traction motor is housed in the upper section of the modular structure and only requires an additional 700mm above the car height. The inside of the lift cabin is finished with coated steel sheeting and is durable and hard wearing. Further car wall protection is available in the form of buffer rails and kick plates in wood, stainless teel and PVC. The car floor can also be finished in a choice of anti-slip rubber, aluminium checker plate or steel checker plate. The free standing modular structure incorporates a 100mm shaft pit requirement, for level loading of the car.
Testimonials
Robert McNulty of ITV

"Both myself and the team here at ITV Border in Carlisle are very pleased with our new lift. The whole process from the planning through to the installation has been conducted in an efficient and professional manner. The operation of the lift is really simple and the safety aspects are re-assuring. The finish is superb and this important addition to our office brings us up to date and in line with other leading and forward thinking businesses."

Danny Donald, Managing Director of Aiken Group

"Just a brief note to commend your two engineers Charlie and Martin who have installed my lift. They were extremely professional, efficient and took the time to explain everything as they were going along. Too often people are quick to complain about service but on this occasion it is very nice to provide positive feedback to you on your operatives."

Ian Hazel - Managing Director of Ian Hazel Funerals Ltd

"I must complement Invalifts on providing a first class product that met our exacting needs"

Lynton and Lynmouth Town Council

"Would like to take this opportunity to thank Invalifts for the excellent service they have provided during the completion of the lift project"

Bristol Hippodrome

"I cannot praise the engineer enough. He had an extremely positive attitude"

Manchester Metropolitan University

"Sincere thanks for the professionalism, dedication and hard work for the recent work undertaken"

Andrea of 'John Moore and Sons'

"On both occasions we have worked with Invalifts, the work has been carried out professionally and efficiently. From the outset to completion a fantastic job."

P. Crawford

"We have been impressed by the efficiency and co-operation of your installation team"

Clifton Methodist Church

"I am pleased to report that the lift is working well and the disabled church members appreciate its installation"

Concept Construction

"Thank you for your excellent service and we will of course work with you in the future"

Richard Gooder from Cambridge

"Installers were courteous, kind, efficient and wonderfully tidy"

Mr and Mrs Croad from Penarth

"Thank you, and the staff, for the extremely good product, and the first class service we have received from you all"