The Leading Provider of External Platform Lifts
We offer platform lifts, self supporting lifts and stair platform lifts for internal and external use – and we'd love to help with your next project!
Thank you, and the staff, for the extremely good product, and the first class service we have received from you all
UK Wide Delivery & Installation

Serving England, Wales and Scotland

Lifts of All Sizes

Perfect for any business

5 & 10 Year Warranty

Available on our commercial platform lift

Over 20 Years Experience

Excellent expertise and knowledge
External Platform Lifts
Accessibility options are essential for any building to ensure those who experience difficulties with climbing stairs can easily and independently access your building. Lifts are beneficial for many groups of people, including wheelchair users, the elderly, and mothers with large pushchairs but more generally, anyone who finds taking the stairs difficult . For this reason, an external platform lift could be an effective solution to traverse difficult external stairs. Our team of highly skilled and experienced engineers will efficiently install your lift and offer ongoing maintenance to ensure your lift continues to function properly. 
Our external platform lifts have a capacity of 400kg and would normally be aimed at a platform size to suite wheelchair passenger and attendant, while also giving adequate space for a mother and buggy. So, if you're concerned about the accessibility options on your site, contact us to start the process of installing external platform lifts
SPEAK TO OUR TEAM  REQUEST A QUOTE
Standard Features

Platform 1100mm wide X 1400mm long (Alternative size available)
Floor to floor travel up to a maximum of 7000mm
400Kg Capacity
Glazed lower landing door
Auto dialler communication on the platform
240v, 1 Phase, 13-amp power requirements
Digital indicators on each landing and platform
Voice Announcement on platform
Stainless steel structure
Ramp at lower landing instead of recess

Optional Features

Upper landing gate or full height landing door (Gate only up to 3000mm)
Key isolation control or Key locking on each landing
GSM auto dialler or induction loop auto dialler
Power operated single swing or centre opening doors and gate
Alternative RAL colour finished
Full battery UPS (7 complete journeys)

Optional Platform Sizes

1100mm wide X 1400mm long – Installation space required 1320mm wide X 1550mm long
900mm wide X 1400mm long – Installation space required 1120mm wide X 1550mm long
900mm wide X 1250mm long – Installation space required 1120mm wide X 1400mm long

The Inva Euro platform lift also comes with other options, including: Intercom, key isolation, induction loop, centre opening doors, powered doors, fire rated doors and tinted glazing.

To see more information on the Inva Euro's installation take a look at the architect's drawings.

Installation & Servicing

At Invalifts we strive to provide the best service possible, from provision to installation and testing of your new lift. Whether for commercial or domestic use, internal or external, we're here to help and ready to provide you with an outstanding service.

We have a team of Nationwide approved service engineers covering all areas of the UK.
Our specialised team of engineers have direct access to full technical support from the manufacturers and can cover the full range of lifts from all manufacturers.
We offer 3 types of service and maintenance contract with a dedicated 24 hour hotline offering you peace of mind whilst maintaining the validity of your lift's warranty through regular maintenance and servicing.

Take a look at our Inva Euro platform lift brochure for more information.

Here at Invalifts, we are lift specialists who are committed to delivering a top class service to all of our customers, ensuring an elegant, smooth and top quality process and finish.
Please contact us to discuss your requirements.

Installation & Removals

We have over 20 years of platform lift installation experience. What that has brought us is the knowledge, experience and expertise to complete platform lift installations efficiently and to the industry's highest standard. 

As part of the installation of a new platform lift, we can often offer a removal package to safely remove an old or non-functioning platform lift ready for the installation of one of our new platform lifts.

Downloads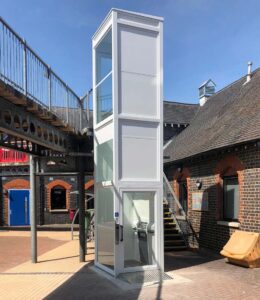 External Wheelchair Platform Lift
Here at Invalifts, we have over 20 years of experience fitting external wheelchair platform lifts in various sectors. Our external wheelchair platform lifts are designed to suit your specific requirements and seamlessly fit your space. Our external wheelchair platform lifts are IP65 rated to withstand harsh weather conditions, and designed to allow rainwater to exit the frame to prevent water retention inside the structure. Additionally, if your lift should need attention, we offer maintenance and servicing contracts to keep your lift functioning normally. So, if you need an external wheelchair platform lift, contact us at Invalifts
Gallery
Explore our gallery of lifts, click on an image below to find out more.
FAQs
Are the external lifts weather resistant?

Yes, there are outdoor platform, stair and wheelchair lift options which are weather resistant and suitable for outdoor environments.

Does the external lift have a battery back up in case of a powercut?

Yes, all of our lifts are installed with a safety feature that lowers the lift back to the ground safely should there happen to be a power cut or an emergency.

What happens if my external lift breaks down?

If your external lift breaks down, please don't hesitate to contact us, and we'll come right out to fix it. Here at Invalifts, we have a team of highly qualified and experienced engineers on hand who can quickly diagnose and remedy the reason for your broken down lift. 
Testimonials
Robert McNulty of ITV

"Both myself and the team here at ITV Border in Carlisle are very pleased with our new lift. The whole process from the planning through to the installation has been conducted in an efficient and professional manner. The operation of the lift is really simple and the safety aspects are re-assuring. The finish is superb and this important addition to our office brings us up to date and in line with other leading and forward thinking businesses."

Danny Donald, Managing Director of Aiken Group

"Just a brief note to commend your two engineers Charlie and Martin who have installed my lift. They were extremely professional, efficient and took the time to explain everything as they were going along. Too often people are quick to complain about service but on this occasion it is very nice to provide positive feedback to you on your operatives."

Ian Hazel - Managing Director of Ian Hazel Funerals Ltd

"I must complement Invalifts on providing a first class product that met our exacting needs"

Lynton and Lynmouth Town Council

"Would like to take this opportunity to thank Invalifts for the excellent service they have provided during the completion of the lift project"

Bristol Hippodrome

"I cannot praise the engineer enough. He had an extremely positive attitude"

Manchester Metropolitan University

"Sincere thanks for the professionalism, dedication and hard work for the recent work undertaken"

Andrea of 'John Moore and Sons'

"On both occasions we have worked with Invalifts, the work has been carried out professionally and efficiently. From the outset to completion a fantastic job."

P. Crawford

"We have been impressed by the efficiency and co-operation of your installation team"

Clifton Methodist Church

"I am pleased to report that the lift is working well and the disabled church members appreciate its installation"

Concept Construction

"Thank you for your excellent service and we will of course work with you in the future"

Richard Gooder from Cambridge

"Installers were courteous, kind, efficient and wonderfully tidy"

Mr and Mrs Croad from Penarth

"Thank you, and the staff, for the extremely good product, and the first class service we have received from you all"