The Leading Providers of Commercial Platform Lifts
We offer platform lifts, self supporting lifts and stair platform lifts for internal and external use – and we'd love to help with your next project!
Would like to take this opportunity to thank Invalifts for the excellent service they have provided during the completion of the lift project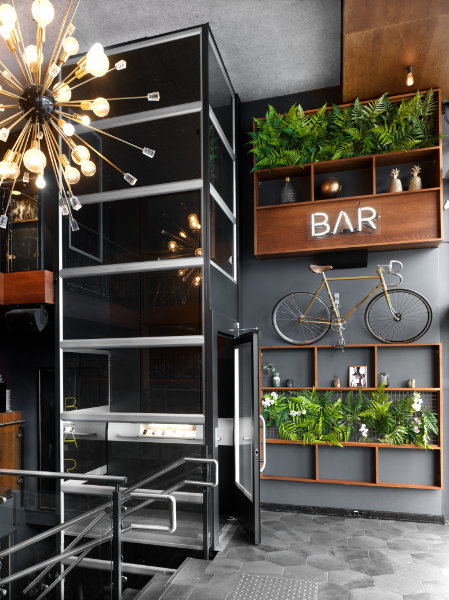 Commercial Platform Lift
Designed for schools, restaurants, offices and public buildings, offering a high quality of finish, including an anodized aluminium platform console, braille and tactile push button, along with an ergonomically designed aluminium or stainless steel handrail on the carriage.
Standard Features

Energy saving LED lighting in ceiling
410kg / 5 persons capacity
Standard platform size of 1100mm wide X 1480mm long
Landing doors 900mm wide X 2000mm high (Alternative special size are available)
Hidden door closers
One touch call button on each landing
Emergency battery lowering with battery guard facility
Controller integral within enclosure
240v frequency drive operation
Manual doors with self closers
Constant pressure tactile pushes

Optional Features

Glazing on 3 sides
410kg / 5 persons capacity
Special platform sizes
Landing doors 900mm wide X 2000mm high (Alternative special size are available)
1 Hour fire rated landing door and frame
One touch call button on each landing
Intelligent automatic doors
RAL colours
Key switch operation
School locking facility
Emergency autodialler or intercom
Braille pushes
Contrasting colour doors

Lift Colour

Our Optimum 100s platform lift can be painted in any RAL colour from standard range.

Standard:

Whole lift painted in standard colour RAL 9016 (Traffic white)

Full colour option:

Whole lift finished in optional colour (Incl. shaft, doors and the panels under the destination panel.)

Lift partially painted in different colours:

Lift walls/Shaft in one colour.
All door blades in one colour.
All door frames in one colour
Panels under the destination panel in one colour.
One of the above choices or a combination of them.

Common Colour Chart

Common colours are at an additional cost to the standard RAL 9016.

Lift Platform

The standard platform is delivered with a half-height wall including destination panel.

Panels under the control panel are painted in RAL 9016 (white) as standard, but can be painted in any RAL colour as an option.

Full Height Wall

As an option the platform can be delivered with a full height wall 2100mm high with a mirror and integrated LED lighting. The full height wall is finished in RAL 9016 as standard, but can be painted in any standard RAL colour as an option.

The full height wall is available on platforms of 1480mm long.

The full height wall is not available for door heights of less than 2000mm or a half height gate.

Flooring

Choose between the following options for vinyl, rubber and aluminum floorings. It is also possible to order the lift without a floor covering, which enables you to fit your own floor with a maximum of 3mm thickness.

Note that aluminum flooring is not available for platform size 900 x 1040mm.

Control Panel

The control panel is delivered with a light box, with an acrylic glass that is lit with LED light. The destination buttons, emergency stop button, alarm button, maximum weight and number of persons are all located on the control panel. Options such as auto dialler and landing directors can also be located on the control panel if required. Parts around the light box and aluminium panel are painted in grey, which give the impression of aluminium.

The standard designation buttons are 32mm diameter and come with braille as standard. As an additional option the designation button can be increased to an extra-large 50mm diameter to provide enhanced accessibility.

Door Control

The door control is either placed on the door frame of each landing door and/or remote from the lift for external control.

Door control on door frame

Door control placed on the door frame of the lift.

For our platform lift there is always a place on the door frame for the faceplate.

Call button

The call button comes with a background lit frame which indicates the status of the lift.

Green light indicates that the lift is at your floor.
Lit only on the floor where the platform is at the moment.
Red light indicates that the lift is occupied.
The flashing light indicates that the safety circuit is broken, e.g. that the emergency button is pressed, the door is open on another floor for more than one minute, the door is blocked or the safety bar is pressed down. The flashing light can also be activated by a smoke alarm, more information is then available in the service memory.

The same call button is used when the door control is placed on the door frame, remotely or as a radio controlled call button.

Downloads
Free Delivery

Across the whole of the UK

Lifts of All Sizes

Perfect for any business

Fast Turnaround

1 - 3 Days from order

10 Year Guarantee

On all of our products

Over 20 Years Experience

Excellent expertise and knowledge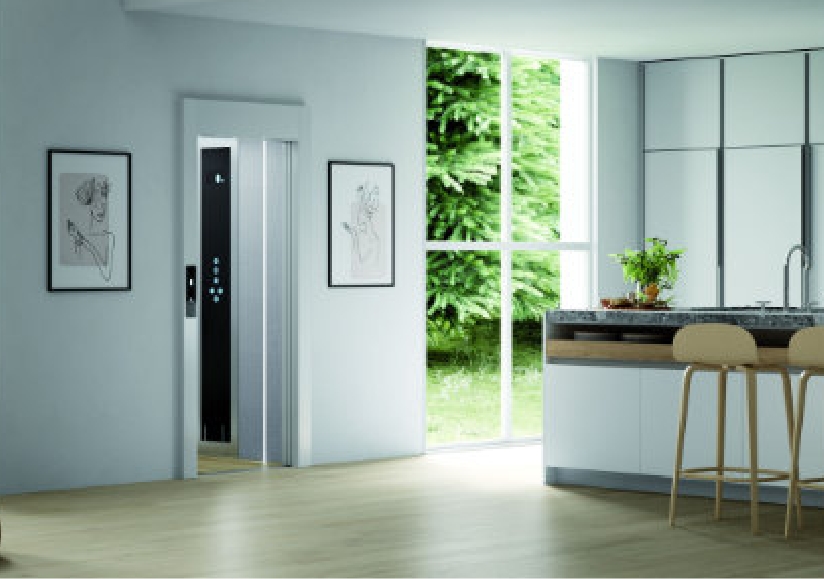 The Platform Lift you can customise
The shaft panels and landings doors come in a standard RAL 9016 (Traffic White) finish, but you have the option to customise them from a range of over 1600 other RAL colours. To further increase the customisation of the platform lift you can also add clear, or tinted glazed shaft panels to the platform lift, further developing our platform lift to fit into your buildings design and become more of a feature, rather than a standard piece of equipment.
The flexible design can serve from two to six floors, with a maximum travel height of 13 metres. Designed to be customisable, the lift can be finished with a choice of clear, tinted or frosted glass, whilst the flooring offers a selection of nine different finishes including, European oak, checker stud and aluminium.
The lift is fully Part M and Equality Act compliant and comes in a range of platform sizes to suit any requirement. With just a 50mm pit (or ramp) required, and no machine room, this lift can fit in just about anywhere.
Testimonials
Robert McNulty of ITV

"Both myself and the team here at ITV Border in Carlisle are very pleased with our new lift. The whole process from the planning through to the installation has been conducted in an efficient and professional manner. The operation of the lift is really simple and the safety aspects are re-assuring. The finish is superb and this important addition to our office brings us up to date and in line with other leading and forward thinking businesses."

Danny Donald, Managing Director of Aiken Group

"Just a brief note to commend your two engineers Charlie and Martin who have installed my lift. They were extremely professional, efficient and took the time to explain everything as they were going along. Too often people are quick to complain about service but on this occasion it is very nice to provide positive feedback to you on your operatives."

Ian Hazel - Managing Director of Ian Hazel Funerals Ltd

"I must complement Invalifts on providing a first class product that met our exacting needs"

Lynton and Lynmouth Town Council

"Would like to take this opportunity to thank Invalifts for the excellent service they have provided during the completion of the lift project"

Bristol Hippodrome

"I cannot praise the engineer enough. He had an extremely positive attitude"

Manchester Metropolitan University

"Sincere thanks for the professionalism, dedication and hard work for the recent work undertaken"

Andrea of 'John Moore and Sons'

"On both occasions we have worked with Invalifts, the work has been carried out professionally and efficiently. From the outset to completion a fantastic job."

P. Crawford

"We have been impressed by the efficiency and co-operation of your installation team"

Clifton Methodist Church

"I am pleased to report that the lift is working well and the disabled church members appreciate its installation"

Concept Construction

"Thank you for your excellent service and we will of course work with you in the future"

Richard Gooder from Cambridge

"Installers were courteous, kind, efficient and wonderfully tidy"

Mr and Mrs Croad from Penarth

"Thank you, and the staff, for the extremely good product, and the first class service we have received from you all"