The Leading Provider of External Lifts
We offer platform lifts, self supporting lifts and stair platform lifts for internal and external use – and we'd love to help with your next project!
Sincere thanks for the professionalism, dedication and hard work for the recent work undertaken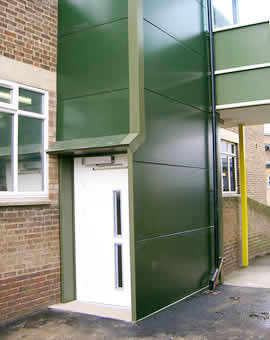 External Lifts
An insulated weatherproof external enclosure to house the platform lift when space is an issue within a building.
Platform Lifts suitable for external use are usually water resistant and not waterproof, therefore their suitability for installation adjoining a building varies significantly dependant upon their usage.
Units suitable for external use

MC2000 (with outer enclosure) – Up to 15000mm travel
InvaEuro – up to 6000mm travel
Inva LRH400 – up to 6000mm travel
Invalow – up to 1000mm travel
Inva Flexi lift – up to 3000mm travel
Invastep – up to 500mm travel
InvaStair Riser – for straight and curved staircases

MC2000 - Multi Floor External Lifts

The availability of space in many multi-level buildings, especially schools, is becoming critical therefore the need to site a lift external to buildings is becoming more and more necessary. Waterproof platform lifts are not a product that appears to be easily available and, since the introduction of the 'Insulation Regulations', few, if any, lifts will meet the insulation criteria necessary under this legislation, should they be attached to a building. Wind loadings can also present a problem as most platform lifts are not designed to withstand wind loadings of around 40 metres per second.

Invalifts have recognised a requirement for a product to assist clients with this particular problem and have worked in partnership with a structural engineering company to develop a solution.

A steel structure, made from a substantial rectangular hollow section, is constructed and anchored into a concrete plinth, adjacent to the wall where the access into the building will be gained. The structure is also attached to the building and is then clad in an insulated micro rib Kingspan, or similar, in order to create a waterproof enclosure which is guaranteed for 5 years. A conventional high quality MC2000 Platform Lift is then installed within the structure.

The outer enclosure comes in a choice of colours from the standard Kingspan range.

The building works requirement for this system are minimal with the formation of the concrete plinth, and apertures through the wall, generally being the only significant works.

Downloads
Free Delivery

Across the whole of the UK

Lifts of All Sizes

Perfect for any business

Fast Turnaround

1 - 3 Days from order

10 Year Guarantee

On all of our products

Over 20 Years Experience

Excellent expertise and knowledge
Testimonials
Robert McNulty of ITV

"Both myself and the team here at ITV Border in Carlisle are very pleased with our new lift. The whole process from the planning through to the installation has been conducted in an efficient and professional manner. The operation of the lift is really simple and the safety aspects are re-assuring. The finish is superb and this important addition to our office brings us up to date and in line with other leading and forward thinking businesses."

Danny Donald, Managing Director of Aiken Group

"Just a brief note to commend your two engineers Charlie and Martin who have installed my lift. They were extremely professional, efficient and took the time to explain everything as they were going along. Too often people are quick to complain about service but on this occasion it is very nice to provide positive feedback to you on your operatives."

Ian Hazel - Managing Director of Ian Hazel Funerals Ltd

"I must complement Invalifts on providing a first class product that met our exacting needs"

Lynton and Lynmouth Town Council

"Would like to take this opportunity to thank Invalifts for the excellent service they have provided during the completion of the lift project"

Bristol Hippodrome

"I cannot praise the engineer enough. He had an extremely positive attitude"

Manchester Metropolitan University

"Sincere thanks for the professionalism, dedication and hard work for the recent work undertaken"

Andrea of 'John Moore and Sons'

"On both occasions we have worked with Invalifts, the work has been carried out professionally and efficiently. From the outset to completion a fantastic job."

P. Crawford

"We have been impressed by the efficiency and co-operation of your installation team"

Clifton Methodist Church

"I am pleased to report that the lift is working well and the disabled church members appreciate its installation"

Concept Construction

"Thank you for your excellent service and we will of course work with you in the future"

Richard Gooder from Cambridge

"Installers were courteous, kind, efficient and wonderfully tidy"

Mr and Mrs Croad from Penarth

"Thank you, and the staff, for the extremely good product, and the first class service we have received from you all"